A Combination of Luxury and Design
GD Group LLC is a specialized covered patio and luxury pool designer serving throughout Northern New Jersey and surrounding areas. Our traditional covers offer a classic look and dependable protection, while motorized roofs allow you to control and regulate your sunlight as you wish. We are a full-site contracting team with over 25 years of achieving excellence for our clients. We'll guide you to the perfect products and materials for your project and design and construct a beautiful, functional patio.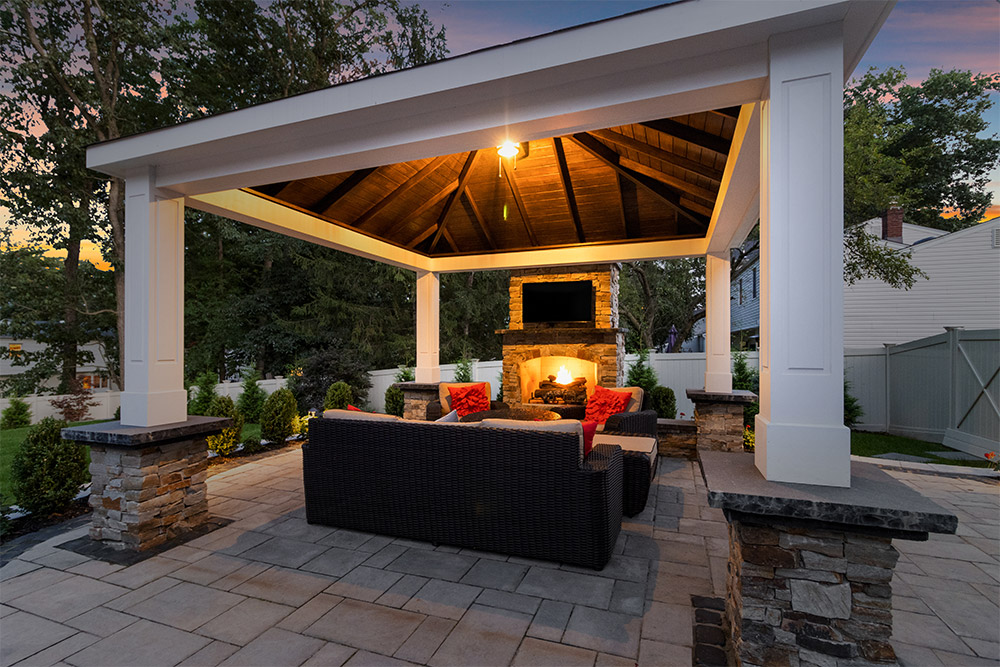 Protection and Beauty Throughout the Year
Many homeowners are choosing three- and four-season patios so they can enjoy and live within their outdoor spaces for longer. Coverings and motorized roofs have become increasingly popular for boosting home value and curb appeal. Our team can provide you with the ideal indoor structure for your home. We construct and install standalone or added-on features, enabling homeowners to enjoy the outdoors in peace. You'll be able to go to and from your outdoor patio freely and comfortably.
Traditional Coverings & Motorized Roofs
A patio covering or motorized roof will provide advanced protection for your space. Enjoy a covered, dry structure for you to decorate and design to your liking, with a cover that secures it year-round.
A motorized louvered roof is ideal for homeowners who want adequate natural light on their patios. It effectively regulates sunlight and can be customized to fit your home's aesthetic.
Secure Outdoor Life in the Cooler Times
Your covering will add outstanding value to your home and happiness. GD Group LLC is among the most trusted patio and deck contractors in the area. We'll install a beautiful, durable cover or roof to protect you and your home for years. You can enjoy the warm weather and sunshine while remaining safe from the weather and other outdoor elements. We can outfit your covered space with heaters, fireplaces, or fire pits to ensure comfort in the chillier times of the year.