Outdoor Entertaining at it's Finest
When the weather is beautiful, treating your family and guests to an outside meal can be fun and rewarding. GD Group LLC makes it easy to eat, drink, and enjoy the outdoors by designing and installing outdoor kitchens throughout Northern New Jersey and surrounding areas. We have over 25 years of experience providing homeowners with exceptional outdoor and poolside spaces. We'll enable you to create mouth-watering meals, sip tasty beverages, and gather with your loved ones with ease.
Cook, Host, & Relax in an Outdoor Kitchen
Outdoor kitchens are completely customized and designed to fit within any space. We can create an outdoor kitchen and dining area for an intimate patio or expansive pergola or pavilion. We build outdoor spaces with a wide range of materials, colors, and additional features. Our team will outfit your installment with the latest appliances and systems, bringing the warmth and community of an indoor kitchen to the outdoors. We'll tailor your outdoor cooking and dining experience to your precise style and taste.
There's nothing quite like the crack and sizzle of firing up a grill on a beautiful summer evening. Our outdoor grills and BBQs cook meals with the quality of traditional fire and gas grills.
Pizza ovens can cook a wide range of meals. Whether you want to throw in a homemade pie or another dish, our pizza ovens are built to satisfy you. Choose from a wide range of styles, including brick, wood-fired, and beyond.
We make it easy to clean, sanitize, and wash with outdoor sink installations. Our outdoor sinks enable homeowners to wash their hands, rinse dishes, and conveniently get a cool glass of water without going inside.
Is it time for a drink? Our outdoor refrigerators and kegerators allow you to store your beverages and items in a cool, safe place. They're perfect for quickly accessing a refreshing beverage during a hot day.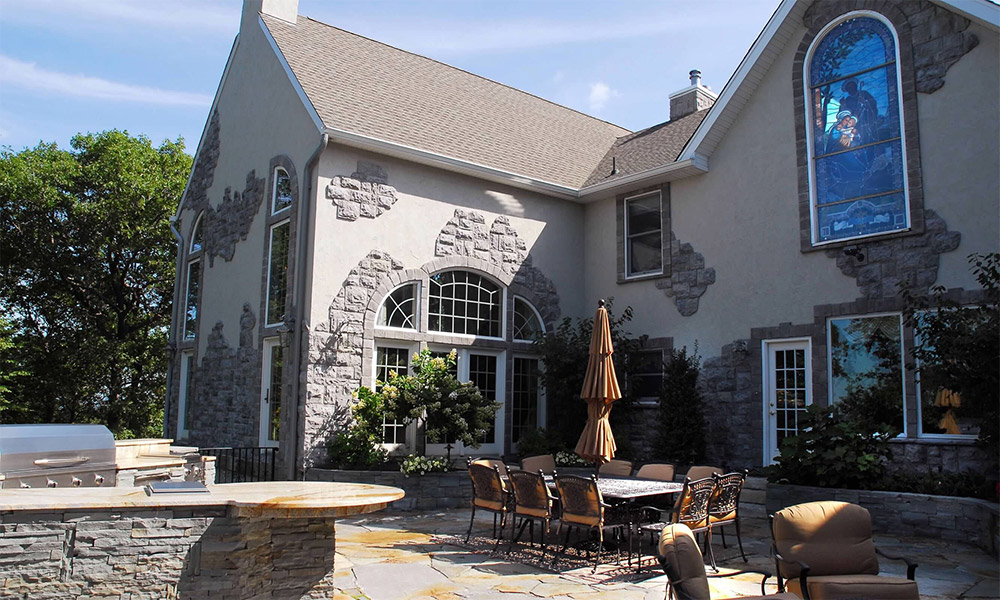 Top Benefits of an Outdoor Kitchen
Outdoor kitchens offer a wide range of benefits aside from delectable food and drink, including:
Fun & Entertainment: Outdoor kitchens are great for hosting guests and enjoying each other's company. Your outdoor kitchen will elevate your poolside time.
Convenience: No more going back and forth between inside and outside. Outdoor kitchens allow you to stay outside with your guests or family always.
Property Value: If you want to sell your home eventually, your outdoor kitchen will benefit your property value. Outdoor kitchens are much desired by prospective buyers.
We Develop the Perfect Designs and Installations
With GD Group LLC your outside kitchen and dining area will be customized according to your needs and wants. We guide clients throughout the entire process. Before the installation, we'll partner with you to develop a design and layout plan. We'll help you choose from a wide range of color options and materials which include brick, marble, stone, bluestone, granite, metal, and beyond. Your appliances will be sourced from industry-leading brands. We'll provide you with an outdoor space that you, your family, and your guests will enjoy for years to come.