Add Some Ambience and Warmth to the Evening
Our area's weather fluctuates constantly. If you want to enjoy your yard without weather interfering, you can rely on GD Group LLC. We enhance poolsides and outdoor spaces with customized outdoor fireplaces throughout Northern New Jersey and surrounding areas. We've been turning yards into beautiful, one-of-a-kind dream spaces for over 25 years. Our fireplace and firepit installations allow homeowners to gather with loved ones, warm up in the cold, cook meals, and enjoy their yard's ambiance. We'll provide warmth and a cozy environment for you and your family to cherish.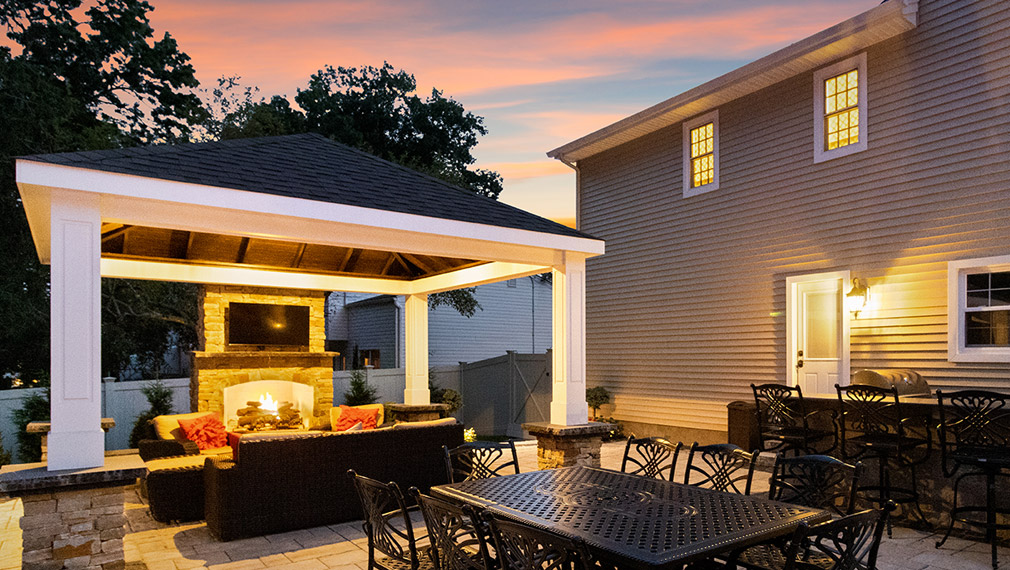 Warm Up the Evening With a Fireplace or Firepit
An outdoor fireplace or firepit will allow you to sit, relax, and engage outdoors throughout the year. You'll be able to use your outdoor space during the warmer and colder months. We offer traditional and gas-powered fireplaces that are easy to operate and control. You can customize your fireplace or pit with durable, beautiful-looking materials like stone, brick, and concrete that you'll love admiring. If you want to wind down from a long day or throw a party, an outdoor firepit would be the perfect centerpiece.
Fireplaces imbue outdoor spaces with a warm, wonderous atmosphere. Whether you're enjoying private time or hosting a gathering, your fire pit will provide a unique and eye-catching look you and your guests will love.
Fire pits are a desired feature among home buyers. Your fire pit can provide you with a selling advantage and may help your home sell quicker. Enjoy the value your fire pit provides you now and when it's time to move.
Do you like the smell and sizzle of a meal home-cooked over a fire? We can install a grate over your firepit, allowing you to grill meats and other wonderful foods easily. Light the fire, place your food, cook it, and enjoy.
For a Comfortable, Beautiful Outdoor Space
GD Group LLC is fully trained, experienced, and equipped to handle your outdoor fireplace installation. There's virtually no limit to what you can achieve or what creative decisions you can make. We can customize a carefully crafted, functional, and robust fireplace that works for you during the winter, spring, summer, and fall. Enjoy watching the flames, hearing the crack and pops, and feeling the comfortable heat whenever you please. We'll partner with you to create the fireplace feature of your dreams.