Fountains That Will Take Your Breath Away
GD Group LLC is here to elevate your swimming experience. We specialize in designing and constructing swimming pool fountains throughout Northern New Jersey surrounding areas, along with waterfalls, bowls, and spas. Our crew has over 25 years of experience in providing landscapes and poolside areas with the highest quality. We design and build water features with beautiful materials and colors. If you already have a vision or you need help and advice on your project, our team will partner with you and deliver an exceptional water feature.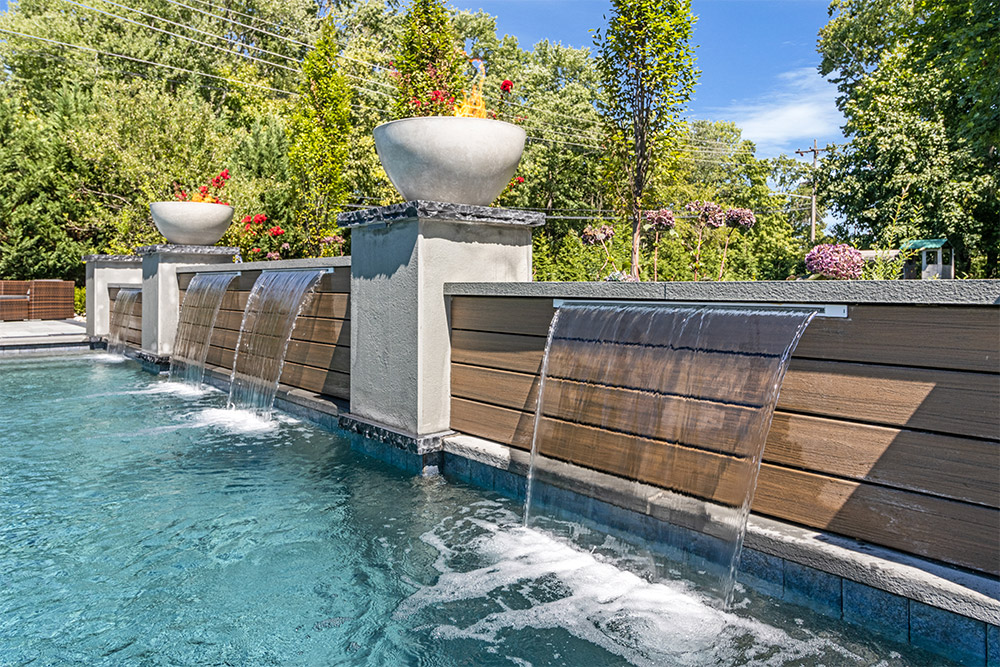 Enhance Your Pool With Water Features
Water features provide an excellent way to enhance your swimming, poolside, and outdoor experience. They can be tailored with beauty, earn your family and guests' admiration, or serve functional purposes and blend in with the environment. The sound of gentle waters flowing calm and relax poolside loungers and swimmers, while higher-power water features can aid exercise and play. Whether you prefer quiet cascades, sweeping falls, or giant splashes, our team will design and install the perfect water feature for you.
Waterfalls bring sublime nature to outdoor spaces. Traditional waterfalls have grand, gushing flows, while weeping waterfalls are low-key and low-flow. We can design and implement sleek and rustic waterfalls, depending on your preferences.
Our fountains can be designed in elegant or natural-looking styles and customized with your desired stream power. Enjoy smooth arches or high power for children to play. We can install fountains on the patio or closer to your pool.
Our spas provide a comfortable retreat away from the pool area or patio. You can relax in a hot tub spa or boost your endurance in a high-power swim spa. We can build spas away or directly into your pool.
Water bowls or woks comprise bowls uplifted by a structure. The bowls continuously stream water either into the pool or another outdoor feature. We can create bowls with a wide range of materials, ranging from metal, ceramic, stone, and more.
Aerators spray water into pools and disperse it in a whirling, fan-like motion. They can be installed on the pool's floor and jet upwards or outside. Children enjoy aerators because they can play in the sprayed water.